Finding an Orlando escrow company you can trust will make your closing smooth and simple.
Did you know the seller can choose the title company for closing?
As with any service, it's essential to look up company testimonials to ensure you know exactly what you're getting. In something as detail-oriented as the closing process on a home, you'll want to do your research on a local Orlando escrow company that's knowledgeable and respected in the industry. For the last ten years, we've provided Central Florida with our title and escrow services. On our testimonials page, you can find our reviews and the reasons why we continue to do what we do every day.
What We Do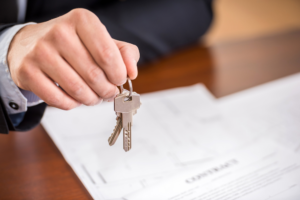 As an Orlando escrow company, it's our job as a neutral third party to carry out the instructions in a purchase agreement between the buyer and seller, or borrower. What makes a good escrow company a great one is their attention to detail and tremendous responsiveness. We understand the closing process is extensive.
That's why we make it a point to ensure we're working diligently with all parties to comply with the terms and conditions of the contract in an efficient and timely manner.
Here's a list of additional escrow services we provide. It's important to be educated on exactly what an escrow company can do for your closing.
Why We Do It
At Prominence Title, we hold our company and our employees to the highest standard. We're passionate about what we do and how we're able to help our clients during such a special time.
Closing on a house is no minor accomplishment and we treat every transaction as a top priority. The partnerships we've developed with real estate agents over the years has been a consistent driving factor to continue making a difference in Central Florida.
Here's one of our testimonials by Chris B. from Pinnacle Realty:
"I have been working with Prominence Title for over seven years now and they are a trusted vendor for my business. Always very professional willing to do whatever it takes to ensure timely closings. The staff will go above and beyond their job description to ensure everyone is happy and no details are missed. I highly recommend them to anyone running a successful real estate business!!"
Your Orlando Escrow Company
We appreciate each and every testimonial we receive as a tribute to our hard work and dedication. Prominence Title would love to be your Orlando escrow company of choice. Contact us today to get started!